Although not a standard street in the typical sense, Main Street U.S.A Disneyland is destination shopping at its finest: classic retail storefronts, a delicious candy store filled with fudge, toffee and caramel apples shaped as Mickey Mouse, an old movie theater playing "Steamboat Willie," and even a French-style cafe where you can rest your tired feet with a cup of coffee. It's no surprise that Disneyland is supposed to be the most magical place on earth, so why wouldn't it resemble the most magical of Main Streets?
As I watched snow fall from the sky (ok fake snow) in front of Sleeping Beauty's Castle, biting into my caramel apple, my inner real estate curiosity got the best of me and just in time for the holidays – I started to think if Main Street was a real street with non-Disney owned real shops, how sustainable would it be in a retail market? And how would it be valued?
Comparable Market Rents
From a financial perspective, we can compare Disneyland's Main Street to many high-street retail environments, especially being located in Southern California. Main Street in Santa Monica is a beautiful water adjacent community with a collection of eclectic shops, bars, cafes, and restaurants. You'll come across Urth Cafe, Coffee Bean, and local favorites like The Victorian and O'Briens. Rents on the street also seem just right for this wealthy area with prime asking rents over $5.00 per square foot/per month plus NNN expenses for just a small stretch of about a mile. And you won't forget the very first Starbucks in California opened right there.
Downtown Ventura evokes old historic California charm with predominately local "mom and pop" shops and eateries. Strolling along you will come across locals grabbing a cup of coffee at Palermo or a late-night brew at Rookees Sports Bar. Although it certainly has its fill of national brands, rents around $2.00 per square foot/per month plus NNN expenses keep this ocean town balanced between up-ward rents and small-town charm.
That Destination Feeling
With people traveling to visit from all over the world, Disneyland creates a feeling of wanting to spend more money. In our recent article regarding the state of the Retail Industry, shopping centers and retail are taking note creating a "resort-type experience." For instance, Westfield has recently created projects in the Woodland Hills/Warner Center area including The Village and the proposed $1B development at the Promenade. Retail is moving away from the old indoor mall concept. Rather, Westfield and other developers are investing in the consumer experience. Now, it is more common to find open-air concepts with beautiful landscaping, sculptures and art, music, DJ events, children play-areas, wine and beer tastings, and more to keep customers staying longer.
Millennials are contributing to the growing demand for experience-driven-retail. Our shopping center advisers' resident millennial expert Marisa explains she will, "choose to spend $20 towards trying a new restaurant over buying a new top" in our recent article Boomers and Millennials. Retail is evolving to capture the new generation of customers. Disneyland is also evolving by creating new attractions for Star Wars and Marvel, to meet with new demands. Such new experiences will attract more visitors and more customers.
Property Positioning
Based on the above characteristics, our team would position the property to owners who look for highly sought-after trophy and core assets. Our unique Property Positing Matrix [see below] showcases assets across four quadrants. We could safely assume that Disneyland's Main Street would fall along the bottom quadrants focused on buyers who enjoy long-term stability and strong trade areas rather than high-yield opportunities. And based on our transaction history of achieving historical low cap rates for many of our clients, our goals would be the same for such a property.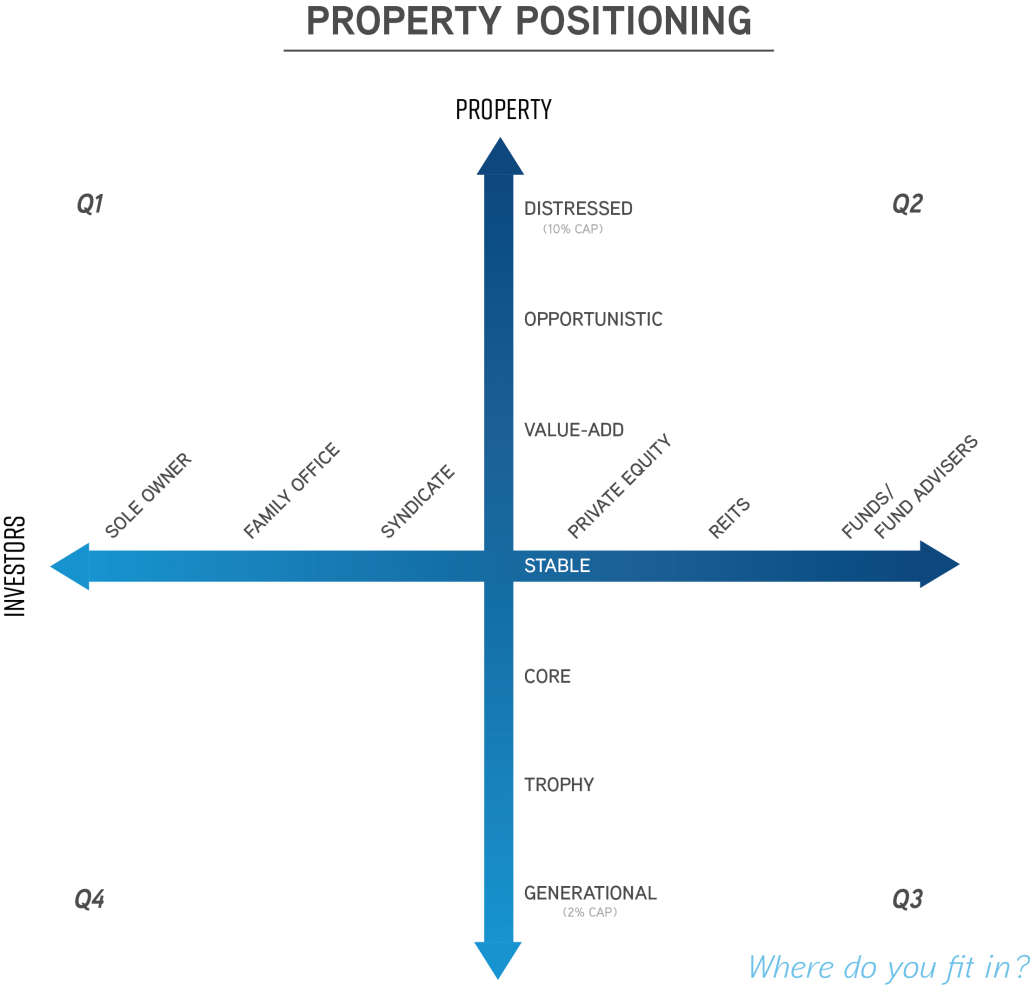 Ultimately, Disneyland's main street retail would fit just nicely in today's retail environment. The only downside is Disneyland does not serve alcohol (except for an exclusive members-only club); that means there are no local pubs to help foster sales. At least the $6.00 candy apples and $5.00 lattes are perfect for prime locations.