Property marketing can be a complex formula in understanding both the buyer and property. Our team has found that breaking that formula down to two equal parts has been a proven way to properly position a property on the market.
Understanding the buyer is the foundation to our property marketing methodology. Next step is understanding the property.
What Type of Property is it?
Classifying the subject property type is just as important as finding out what kind of buyer bucket the property fits into. Our metrics begin with distressed and go all the way up to generational.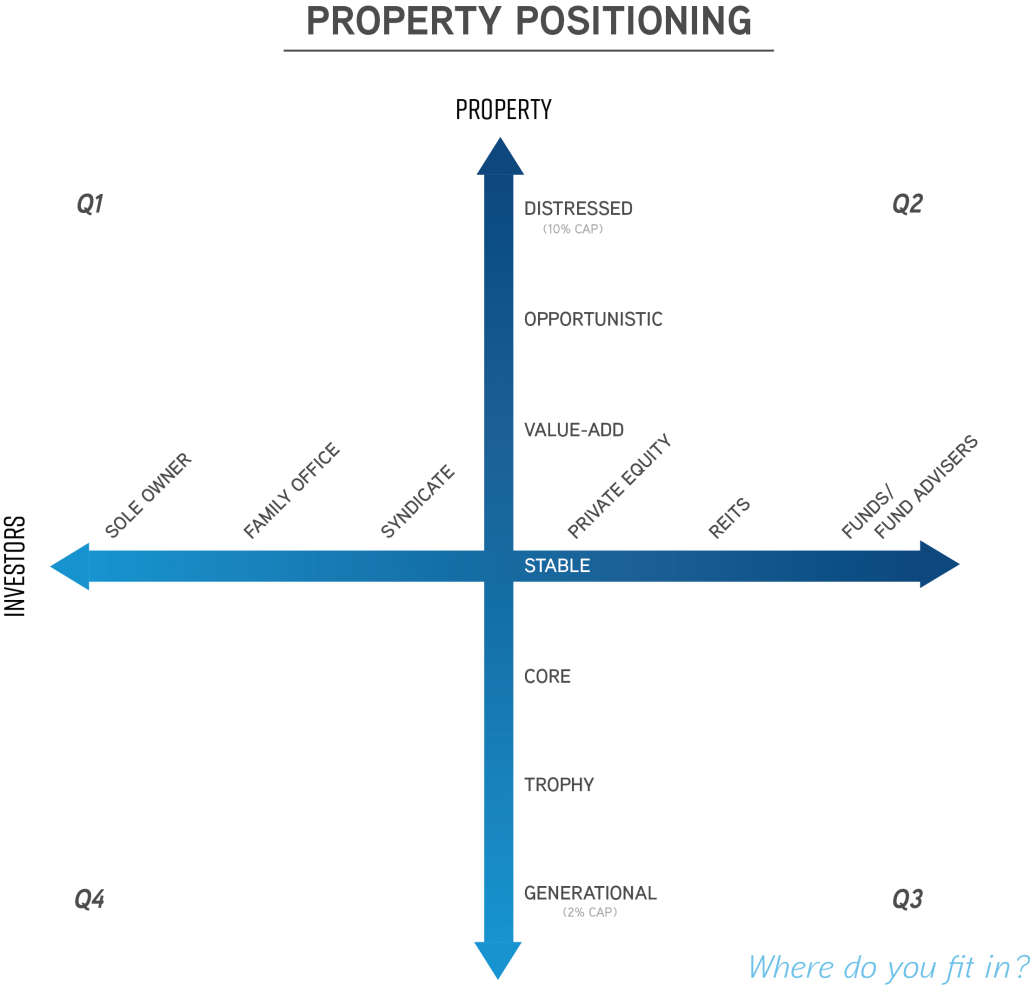 A distressed property would be one that sounds just as it is described – a property that would need a lot of capital improvements, potential lease-up strategy, and would probably market with an "as-is" financial analysis. Distressed properties are very specific to certain buyer profiles, and we typically see more of the private equity and sole ownership buckets purchasing these types of properties.
Opportunistic and value-add properties typically appeal to the dreamer – one who can see the potential in either the property or the trade area. When our team markets a property that fits into this category, we usually form the offering memorandum around the possibilities rather than the "as-is" narrative. This usually includes a projected financial analysis as well as a strong market and area overview section. A prime example of this would be our Hacienda Plaza property in La Puente, California. Typically these types of properties offer a higher yield in a shorter amount of time than a distressed property, and usually have some sort of characteristic that would attract a Syndicator or REIT.
Once we move on to the lower quadrants of the property positioning chart, we see core through generational. These properties are highly sought after and are highly attractive to the more institutional buckets. Marketing these properties revolves around a narrative of the stability and long-term viability rather than high-yield opportunities. Our offering memoranda become more financially driven and focus on the tenants and overall market landscape. For a property to be considered core or above, there are very distinct characteristics it must have i.e., strong tenancy, high occupancy rates, stable to upward trending financials, and a strong trade area that is either consistent or growing. Of course, these are not the final say in what makes a property core or higher, but they are common traits among the properties we have marketed and sold.
Marketing the Property
Once our team has fully vetted the subject property and has placed it on our property positioning chart, we take active marketing steps to not only target the specific buyer profile but also tailor each marketing campaign to the property type.
For a distressed property we might take a softer approach and target a specific pool of buyers that seek distressed properties by creating a very direct valuation and offering memorandum. Often third party platforms would be leveraged at a higher rate such as Loopnet, TenX, Propertyline, and Costar. A buyer for a distressed property is very specific, and the marketing campaign would reflect that specificity.
Value-Add and opportunistic properties have to appeal to the macro-minded individual. Our team generally places a stronger emphasis on graphic elements, trade area information, and photography. Our visuals tend to emphasis the property's potential as well as its inherent value. We usually launch a full eBlast marketing campaign and often leverage third party marketing platforms such as Real Capital Markets as well as produce a property video.
When we start marketing core through generational properties, our team creates a full eBlast campaign, leverages third party marketing platforms such as Real Capital Markets, and produces a property video. Although these property types do appeal to the more institutional buckets, the buyer pool also widens to include high net worth individuals as well as REITS and funds. We tend to place a heavier emphasis on the underwriting, but also make sure we are implementing highly stylized graphics. Since the buyer pool widens, our marketing campaigns have to appeal to that larger audience.
Ultimately, each property is unique in its own right. Even with our property positioning chart and formula, there will be exceptions to our methodologies. Each of our marketing campaigns is customized and individually built to reflect each property's unique characteristics.
We make sure to maximize exposure, create a best-in-class campaign, and always strive for our team's promise of a secured and managed close. If you would like more information on our process or how your property fits into our positioning chart, please feel free to contact us.