One of the greatest tools we have found in utilizing technology within our property marketing is leveraging the third party platform Real Capital Markets (RCM). Although it is attached to a distinct price tag, the platform is a one-stop-shop for all of our property marketing needs. The platform not only allows you to create a unique website for the property equipped with its own domain, it can send property emails, keep an on eye on real-time reporting, and provide immediate war room access to qualified investors.
Know Your Pricing Options
There are different pricing options for the platform (for more information on pricing please contact RCM), and our team has utilized both the DIY Package and the Silver Package. The main difference between the two is that the Silver Package includes RCM's distribution list of qualified investors, and depending on your pricing rubric – a thousand dollars. The purchased distribution information is proprietary and protected by RCM, so certain items are hidden from the user such as email address. There are two higher packages, Gold and Platinum Package, which offer additional support in creating the "teaser" or landing page as well as additional email building support. These two packages would be ideal for a team that did not have the graphic support capability to create and execute the design elements for a landing page or eblast on their own.
RCM also offers exceptional support. It took me a few months to figure out how to fully navigate through the platform, and their support staff was with me every step of the way. With each new project, you are assigned an account manager who will be able to help you with any questions you might have.
Reporting Metrics
One of my favorite features is the RCM Reporting tab. Not only is everything in real-time, the interface is easy to use and there are also notification features. Everything is vertically integrated within the platform, and reporting begins from viewing the landing page, to the initial eblast, and all the way through downloading documents from the war room. You no longer have to visit several platforms to provide your client with updated and accurate reporting, RCM provides it all in one place.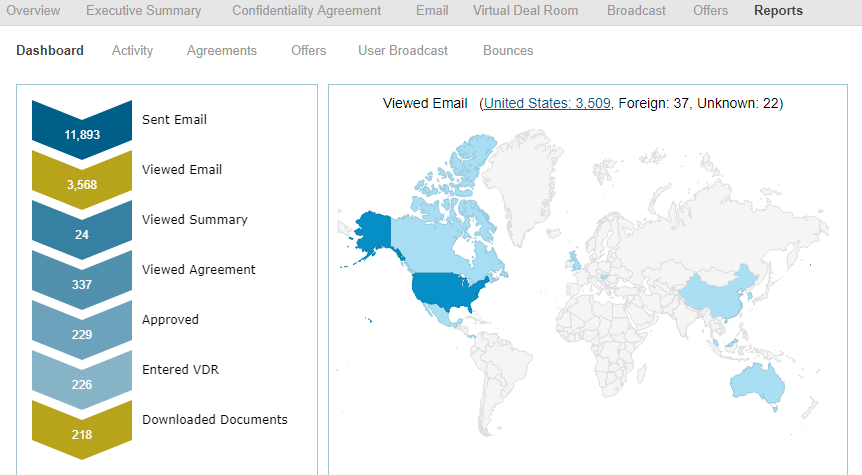 Another great feature is the notifications. RCM sends a bi-weekly report and you can also set up your own personal notifications to receive an alert when someone executes ta project's confidentiality agreement. Our team loves this feature because it is a wonderful, real-time gauge of the market's interest in a specific property/project. Yes, a surge of emails filling your inbox could be somewhat distracting, but it is also a great way to see property interest and build genuine excitement about the marketing campaign itself.
War Rooms
RCM has set a high precedent on what a War Room should be and how it should interact with your marketing platform.
The War Room itself is user-friendly and provides you with multiple security settings. This is where our team typically houses the property's offering memorandum and all of the property's due diligence.
The offering memorandum and any other information we would want someone to initially receive about the property is typically set to low, while higher level due diligence items such as leases and sensitive financial documents are set to medium or high. And the wonderful things about the RCM War Room is that clients can access the low-level information immediately after executing the online confidentiality agreement.
Please do keep in mind that RCM does allow you to manually approve each person who enters the War Room even if they execute the CA, and for some brokers this is preferred. Our team has found that adding additional security measures has no added benefit to the low-level information. Our distribution lists are already filtered and find that a best practice is to let people get the information as soon as and with as much ease as possible.
In conjunction with the reporting, RCM allows you to see who has downloaded specific documents, what they have opened, and their time stamped activity within the War Room. In my experience, no other service out there has been able to provide this in such a user-friendly and aesthetically pleasing interface.
There is an initial storage limitation on of 100 MG to the War Room, but there are also options to purchase more space if needed.
Cross Linking Between Platforms
Something that we have also found useful within our property marketing is that RCM allows you to cross link to their platform. RCM does limit the amount of full distribution blasts you can send per project. Each project is allowed two full distribution blasts. This stops people from sending mass amounts of emails to their distribution lists, which in turn protects RCM and RCM's distribution list from SPAM complaints.
Although this may seem limiting, this is one of the factors that make's RCM's purchased distribution lists so effective. They take these extra measures to ensure that the people on their lists are active users. Do not fear, you can send additional (and unlimited) emails to "approved" users, or those that have engaged in the marketing campaign. RCM will also make additional exceptions if there are significant changes to the property such as a notable price adjustment.
There will be times when a team will want to send another email to a full distribution list after using the initial two blasts. The great thing about that is you don't have to lose any valuable reporting by going through another e-blasting platform. RCM has built in generic links to both the project's landing page as well as a confidentiality agreement. By placing these generic links into the other platform, you are still able to filter all the reporting through RCM. These generic links have proven to be invaluable not just for additionally blast, but for answering property requests that have been sourced from third party sites such as Loopnet, Costar, and Propetyline.
RCM really has done a wonderful job in supplying brokers and marketers with all the tools needed to create and execute a successful marketing campaign. My only criticisms of the platform really lie within the pricing and time limitations surround the lifespan of a project, but those things are extremely subjective and do not diminish the many benefits you receive when using the platform.
Please feel free to contact us with any questions you might have on the platforms functionality as well as our team's best practices. We have utilized the platform for years and have found it to be one of our greatest marketing tools.
[gravityform id="4″ title="true" description="true"]